REMOTE LEARNING PROVISION
MER Remote Learning Timetable
If the school is closed for one or two days (for example due to snow or other unforeseen circumstances) then work will be set on Google classroom for students to work asynchronous (independent learning), apart from during industrial action by teaching staff when it will not be possible to set work in this way; in these circumstances, the remote learning timetable shown below will NOT be activated.
Below is further guidance on remote learning if the school is forced to close for extending periods of time.
All students will follow their normal school timetable; depending which week it is some of these lessons will be synchronous (a live lesson led by the teacher) or asynchronous (independent learning). The timetable below shows you which lesson will be either synchronous or asynchronous.
Students will start the day with a live tutor session through Google Meet. Your child should be logged on and live by 8.45am.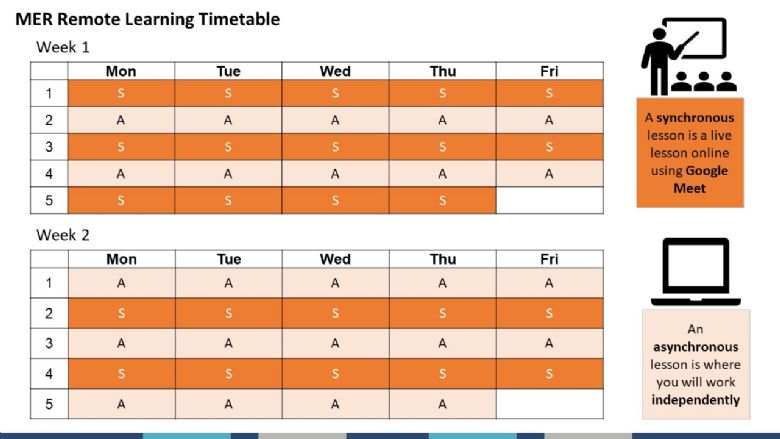 ​
How to use the Remote Learning Timetable
Example 1
On Monday week 1 Mohamed has English P2. His teacher will post work to do in Google Classroom. This work will be asynchronous - this means he can do it independently at his own pace, but he must submit what he has done by three working days (this means he must submit his work in to Google Classroom by Thursday P2).
Example 2
On Wednesday during week 2 Rachel has Maths P2. Rachel will join the online synchronous lesson using the Google Meet link in her Maths classroom. She will be joined online with her classmates to work together in a lesson delivered by her teacher online using Google Meet. Students must attend these lesson, as a register will be taken. If your has any problems accessing the lesson, then please contact the school.
How to Win at Remote Learning
We want to ensure you make a success of your learning in every situation. This website will help you find out what to do in each of the five scenarios as well give you top tips for making a success of your remote learning and provide help if you have any problems.
Catch-Up Programme
Please click here to view our strategy for the government's catch-up funding programme.
---
---